On Sat., 5th October 2019, a repose event will be held in Tokyo. We warmly invite residents in Tokyo to the initial gathering "Let's cook Japanese home-style dishes in easy Japanese". Please come to the venue, the 4th floor of Manseibashi Kumin Hall (3 minute-walk from Akihabara Electric Town Exit, JR Akihabara station). Everyone will start shopping together, the first activity.
2019年10月5日(土)にリポーズのイベントを開催します。東京都内にお住いの皆さま、第一回「日本の家庭料理をやさしい日本語で!」会合にご参加ください。会場の万世橋区民会館4階、教養実習室においでください。(JR秋葉原駅電気街口から徒歩3分) 一緒に買い物に行ってから作ります。
Dishes we cook are: Teriyaki chicken; Japanese radish salad;
Spinach tossed in a dressing of sesame seeds; Tofu and wakame seaweed miso soup.
作る料理:鶏の照り焼き、大根サラダ、ほうれん草の胡麻和え、豆腐とわかめの味噌汁。
Fee: 500 yen per person. Maximum number of participants: 20. How to apply: Please apply via Email to repose@wecare-ofn.org by 4th October. (clearly write your full name and contact email address)
参加費:一人500円。定員:20名。申込先:repose@wecare-ofn.org 10月4日締切 (参加者のお名前と連絡メールアドレスを明記してください。)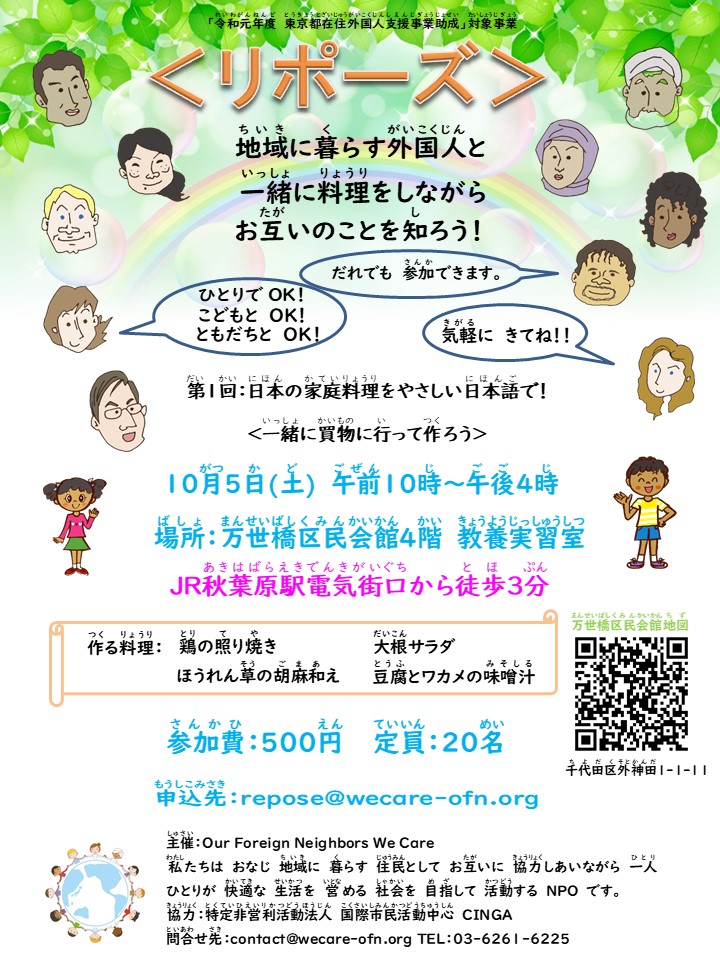 Organizer: Our Foreign Neighbors We Care in collaboration with
Citizen's Network for Global Activities. This event is supported by the Tokyo Metropolitan Government in fiscal year 2019.
主催:Our Foreign Neighbors We Care. 協力:特定非営利活動法人 国際市民活動中心 CINGA. 「令和元年度 東京都在住外国人支援事業助成」対象事業。
Contact information: contact@wecare-ofn.org